Alumni
The Center for East Asian Studies maintains contacts and positive relations with its alumni, including its many former Foreign Language and Area Studies (FLAS) Fellows. Whether our alumni and fellows have recently graduated, or graduated some time ago, we are always interested in their accomplishments and where their Kansas experiences have taken them. Please feel free to complete our Alumni Update webform to let us know how you are doing.
Featured Alumni
Dianne Daughtery, M.A., Contemporary East Asia Studies, 2018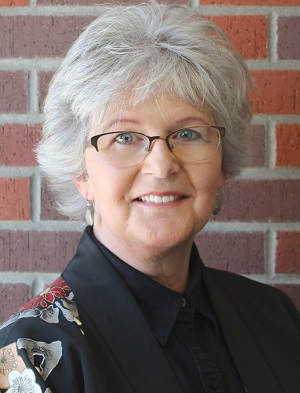 My interest in East Asia, specifically Japan, began when my husband and I moved to Japan to teach English. It was a very fulfilling experience providing further inspiration to deepen my knowledge and understanding of Japanese culture. ultimately, I changed my career path to pursue teaching Japanese. After about 18 years in the teaching field, my growing interest and curiosity for Contemporary East Asian Studies led me to the M.A. program at KU.
I've always been intrigued by the intricate weaving of language and culture. History, beliefs, social position, gender, and endless other aspects of Japanese culture are revealed through its language and vice versa. I very much enjoy highlighting these cultural insights for students in my classes. The traditional and performing arts are also a key interest of mine. While living in Japan and on subsequent visits to Japan, I've studied Ikebana, tea ceremony, calligraphy, taiko drumming, and the kimono. For 17 years, I was the director of performing arts for the Greater KC Japanese Festival where we were able to highlight an extraordinary array of Japanese music and performing arts.
Much of my early academic studies in the fields of health and wellness included aspects of aging. As the director of the Olathe Senior Center, from 1985-89, I was able to introduce a variety of fitness classes and programs. Twenty years later, I was pleased to be able to include the study of aging in my M.A. thesis, "Aging, Ritual, and Ikigai in Post-Modern Japan." I remain interested in incorporating the extensive learning from the CEAS M.A. degree as Adjunct Professor of Japanese at Johnson County Community College. I am also a member of the Japanese Instructors Association of the Heartland, a rather new group of teaching professionals that formed to support each other and pool our energy and interests so that we can improve and expand Japanese language studies in our region.
List of CEAS Alumni (2000 - present)
| Alumni | Program / Year | Degree  |
| --- | --- | --- |
| Christopher Mason | M.A. in Contemporary East Asian Studies, 2023; Summer FLAS Fellow, 2022, Japanese |   |
| Molly McIntyre | M.A. in Contemporary East Asian Studies, 2023; Graduate FLAS Fellow, 2022-23, Japanese | Thesis: "Drawing Attention to Invisibility: Essay Manga and Cultural Politics of Women with Developmental Disabilities in Japan" |
| Jackson Morris | M.A. in Contemporary East Asian Studies, 2020; Graduate FLAS Fellow, 2022-23, Japanese | Thesis: "Make Something of Ourselves: Transformations of the Female Body and the Visual Language of Eromanga Violence in Uziga Waita's 'Peko to Issho' (1997) and 'Hao Chi Feng Jiao' (2003)" |
| Jacob Barta | Graduate FLAS Fellow, 2022-23, Japanese | Current KU graduate student in Global & International Studies |
| Emma Green | Undergraduate FLAS Fellow, 2022-23, Japanese | Current KU undergraduate student in Global & International Studies |
| Milla Hanova | Undergraduate FLAS Fellow, 2022-23, Chinese | Current KU undergraduate student in Global & International Studies |
| Avery Heck | Undergraduate FLAS Fellow, 2022-23, Japanese | Current KU undergraduate student in East Asian Languages & Cultures |
| Collin Keating | Undergraduate FLAS Fellow, 2022-23, Chinese | Current KU undergraduate student in East Asian Languages & Cultures and Linguistics |
| Savannah Nolte | Undergraduate FLAS Fellow, 2022-23; Summer FLAS Fellow, 2022, Uyghur | Current KU undergraduate student in East Asian Languages & Cultures and Anthropology |
| Josette Pinto | Undergraduate FLAS Fellow, 2022-23, Korean | Current KU undergraduate student in East Asian Languages & Cultures and Business |
| Cody Simpson | Undergraduate FLAS Fellow, 2022-23; Summer FLAS Fellow, 2022, Japanese | B.A. in East Asian Languages and Cultures |
| Carolisa Watson | Graduate FLAS Fellow, 2022-23, Chinese; Graduate FLAS Fellow, 2019-20, Tibetan | Ph.D. candidate in Geography |
| Alexys Peppers | Summer FLAS Fellow, 2022, Korean | Current KU undergraduate student in Global & International Studies |
| Taylor Billings | Graduate FLAS Fellow, 2021-22, Chinese | M.A. in East Asian Languages & Cultures |
| Megan Heeney | Undergraduate FLAS Fellow, 2021-22, Japanese | B.A in Global & International Studies |
| Alice Liu | Graduate FLAS Fellow, 2021-22, Chinese | MAcc in Accounting |
| John Lubianetsky | Undergraduate FLAS Fellow, 2021-22, Uyghur | Current KU Undergraduate student in Global & International Studies |
| Amaya Madden | Graduate FLAS Fellow, 2021-22, Japanese | Ph.D. candidate in Linguistics |
| Hannah Oh | Graduate FLAS Fellow, 2021-22, Korean | Current KU graduate student in East Asian Languages & Cultures |
| Raina Peter | Undergraduate FLAS Fellow, 2021-22, Chinese | Current KU undergraduate student in Political Science |
| Abigail Spiess | Graduate FLAS Fellow, 2021-22, Uyghur | Current KU graduate student in audiology |
| Logan Ward | Graduate FLAS Fellow, 2021-22, Japanese | Current KU graduate student in Art History |
| Henry Amis | Summer FLAS Fellow, 2021, Chinese | Current KU undergraduate student in Accounting |
| Gabrielle Bowen | Summer FLAS Fellow, 2021, Korean | Current KU  undergraduate in International Business |
| Taniah Fairbanks | Summer FLAS Fellow, 2021, Korean | B.A. in Global & International Studies |
| Savannah Glaves | Summer FLAS Fellow, 2021, Korean; Undergraduate FLAS Fellow, 2020-21, Chinese | Current KU undergraduate in East Asian Languages & Cultures and Global & International Studies |
| PaChee Lor | Summer FLAS Fellow, 2021, Chinese | Current KU undergraduate in Speech, Language, & Hearing |
| Tyler McMillan | Summer FLAS Fellow, 2021, Chinese | Current KU undergraduate in East Asian Languages & Cultures |
| Honorah Maggio | Summer FLAS Fellow, 2021, Chinese | B.A. in Global & International Studies and B.A. in Economics |
| Jackson Martin | Summer FLAS Fellow, 2021, Chinese | B.A. in East Asian Languages & Cultures and B.A. in Economics |
| Cade Wilburn | Summer FLAS Fellow, 2021, Chinese | Current KU undergraduate in East Asian Languages & Cultures |
| Isaac Allred | Graduate FLAS Fellow, 2020-21, Chinese | Ph.D. in Geology |
| Jesus Briseno | Undergraduate FLAS Fellow, 2020-21, Japanese | B.A in East Asian Languages & Cultures |
| Scott Boland | Undergraduate FLAS Fellow, 2020-21, Uyghur | Current KU undergraduate student in East Asian Languages & Cultures |
| Quin Dotzert | Undergraduate FLAS Fellow, 2020-21, Korean | Current KU undergraduate student in East Asian Languages & Cultures |
| Michaela Harding | Undergraduate FLAS Fellow, 2020-21, Japanese | B.A. in East Asian Languages & Cultures and BA. in English |
| Sura Jaradat | Undergraduate FLAS Fellow, 2020-21, Korean | B.A. in Global & International Studies |
| Sarra Mahoney | Undergraduate and FLAS Fellow, 2020-21, Chinese; Summer FLAS Fellow, 2019, Korean | Current KU undergraduate student in Global & International Studies |
| Monica Morales Ramos | Undergraduate FLAS Fellow, 2020-21, Korean | Current KU undergraduate student |
| Colin Pate | Graduate FLAS Fellow, 2020-21, Korean | Current KU graduate student in Geography |
| Rachel Quist | Graduate FLAS Fellow, 2019-21, Chinese; Graduate and Summer FLAS Fellow, 2016-18, Japanese | Ph.D. candidate in Art History |
| Jeremy Ross | Graduate FLAS Fellow, 2020-21, Chinese | B.A.  in Global & International Studies |
| Zane Hayden | M.A. in Contemporary East Asian Studies, 2020 | Thesis: "Cultural Versus Addictive Influences on Video Gaming in Japan" |
| Jin Zhang | M.A. in Contemporary East Asian Studies, 2020 | Thesis: "A Rise of Women On-screen? Exploring the Strong-Female Narrative and Its Reflections on the Political and Social Values in Contemporary China" |
| Alexis Harms | Summer FLAS Fellow, 2020, Chinese | B.A in East Asian Languages & Cultures |
| Andrew Hartnett | Summer FLAS Fellow, 2020, Chinese | B.A. in Political Science |
| Owen Meyers | Summer FLAS Fellow, 2020, Chinese | Current KU undergraduate student in Mathematics |
| Anna Harder | Undergraduate FLAS Fellow, 2019-20, Chinese | B.S. in Biology |
| Kara Neely | Undergraduate FLAS Fellow, 2019-20, Korean | B.A. in East Asian Languages & Cultures |
| Nathan Schellenberg | Graduate FLAS Fellow, 2018-20, Korean | M.A. in Linguistics |
| Nicholas Shea | Graduate FLAS Fellow, 2017-20, Uyghur | M.A. in Geography |
| Catalina Wedman | Undergraduate FLAS Fellow, 2019-20, Chinese | B.A. in Spanish |
| Melinda Chen | Summer FLAS Fellow, 2019, Chinese | M.A. in Women, Gender, & Sexual Studies |
| Megan Londeen | Summer FLAS Fellow, 2019, Korean | B.A. in Film and Media Studies |
| Garnet Peeler | Summer FLAS Fellow, 2019, Chinese | B.A. in East Asian Languages & Cultures |
| Megan Rooney | Summer FLAS Fellow, 2019, Japanese | B.A. in Art History |
| Logan Stuart | Summer FLAS Fellow, 2019, Chinese | B.A. in East Asian Languages & Cultures and History |
| Holden Zimmerman | Undergraduate and Summer FLAS Fellow, 2018-19, Japanese | M.A. in History |
| Andrea Chen | Undergraduate FLAS Fellow, 2018-2019, Chinese | B.S in Business Accounting |
| Preston Decker | Graduate FLAS Fellow, 2017-19, Uyghur | Ph.D. candidate in History |
| Kayla Harbour | Undergraduate FLAS Fellow, 2018-2019, Japanese | B.A. in Linguistics |
| Mathew Reinhold | Undergraduate FLAS Fellow, 2018-2019, Japanese | B.A. in Linguistics |
| Ruth Tayor | Undergraduate FLAS Fellow, 2018-2019, Korean | B.A. in East Asian Languages & Cultures |
| Veysel Akaydin | M.A. in Contemporary East Asian Studies, 2018 | Thesis: "Political Participation among Japanese Youths: The Comparison of Zengakuren and SEALDs |
| Dianne Daugherty | M.A. in Contemporary East Asian Studies, 2018 | Thesis: "Aging, Ritual, and Ikigai in Postmodern Japan" |
| Muhyettin Erden | M.A. in Contemporary East Asian Studies, 2018 | Thesis: "Kurds in Japan: National Identity, Immigration, and Path to Citizenship" |
| Jacob Clements  | Summer FLAS Fellow, 2018, Japanese | M.A. in East Asian Languages & Cultures |
| Natalie Craig | Summer FLAS Fellow, 2018, Chinese | B.A. in East Asian Languages & Cultures |
| Grantz Aubree | Summer FLAS Fellow, 2018, Japanese | B.S. in Business Finance |
| Paul McPheeters | Summer FLAS Fellow, 2018, Chinese | B.A. in East Asian Languages & Cultures |
| Christel Ostrowski | Summer FLAS Fellow, 2018, Korean | B.A. in East Asian Languages & Cultures |
| Rebecca Reutzel | Summer FLAS Fellow, 2018, Korean | B.A. in East Asian Languages & Cultures |
| David Easley | Undergraduate FLAS Fellow, 2017-18, Chinese | B.A. in East Asian Languages & Cultures, B.S. in Computer Engineering |
| Micah Edmondson | Undergraduate FLAS Fellow, 2017-18, Korean | Current KU undergraduate student in the School of Engineering |
| Alyana Moyer | Undergraduate FLAS Fellow, 2017-18, Korean | B.A. in East Asian Languages & Cultures |
| Steven Ozaki | Undergraduate FLAS Fellow, 2017-18, Chinese | B.S. in Logistics, Materials, and Supply Chain Management |
| Maya Percich | Undergraduate FLAS Fellow, 2017-18, Korean | B.A. in East Asian Languages & Cultures |
| Laura Searcy  | Graduate FLAS Fellow, 2016-18, Uyghur | M.A. in Linguistic Anthropology |
| Nicholas Shea | Graduate FLAS Fellow, 2017-18, Uyghur | M.A. in Geography and Atmospheric Science |
| Amanda Hill | M.A. in Contemporary East Asian Studies, 2017 | Thesis: "Migrant Maternal Health: The Disparities of the Hukou System" |
| Kimberly Hernandez | Summer FLAS Fellow, 2017, Korean | B.A. in East Asian Languages & Cultures, B.A. in Film Studies |
| Andrew Kustodowicz | Graduate and Summer FLAS Fellow, 2015-17, Japanese | Ph.D. candidate in History |
| Mary Mitchell | Summer FLAS Fellow, 2017, Japanese | B.A. in East Asian Languages & Cultures and B.S. in Biology |
| Brian Rogers | Graduate and Summer FLAS Fellow, 2016-17, Japanese | M.A. in History |
| Brooklyn Shaw | Summer FLAS Fellow, 2017, Korean | B.A. in Speech, Languages, and Hearing |
| Philip Bradshaw | Undergraduate and Summer FLAS Fellow, 2016-17, Chinese | B.A. in East Asian Languages & Cultures and B.S. in Biochemistry |
| Justin Connolly | Undergraduate FLAS Fellow, 2016-17, Japanese | B.A. in East Asian Literature and Culture |
| Mallory Copeland | Undergraduate and Summer FLAS Fellow, 2016-17, Chinese | B.A. in Environmental Studies |
| Kathleen Harding | Undergraduate FLAS Fellow, 2016-17, Korean | B.A. in East Asian Languages & Cultures |
| Isaiah Hastings | Undergraduate FLAS Fellow, 2016-17, Japanese | B.A. in East Asian Languages & Cultures and B.S. in Business Administration |
| Michael Burns | Summer FLAS Fellow, 2016, Japanese | B.S. in Computer Science |
| Akira Cowden | Undergraduate FLAS Fellow, 2014-16, Korean | B.A in East Asian Languages & Cultures and B.A. in Global & International Studies |
| Phillip Garcia | Undergraduate FLAS Fellow, 2015-16, Japanese | B.A. in East Asian Languages & Cultures |
| Elle Gerleman | Undergraduate FLAS Fellow, 2015-16, Chinese | B.A. in Global & International Studies |
| Vann Hassell | Undergraduate FLAS Fellow, 2015-16, Korean | B.A. in East Asian Languages & Cultures and B.A. in Linguistics |
| William Hill | Graduate and Summer FLAS Fellow, 2015-16, Chinese | M.A. in East Asian Languages & Cultures |
| Phillip Kroh | Graduate FLAS Fellow, 2015-16, Japanese | M.A. in Linguistics |
| Alexandra Miller | Graduate FLAS Fellow, 2015-16, Japanese | Ph.D. in Art History |
| James Paisley | Undergraduate and Summer FLAS Fellow, 2015-16, Chinese | B.A. in Global & International Studies and B.A. in History |
| Lee Wu | Undergraduate FLAS Fellow, 2015-16, Chinese | B.S. in Computer Engineering |
| Matthew Schlosser | M.A. in Foreign Affairs Studies: Contemporary East Asia in Global Context, 2015 |   |
| Katie Conard | Summer FLAS Fellow, 2015, Japanese | B.A. in East Asian Languages & Cultures and B.A. in Anthropology |
| Elizabeth Fentress | Summer FLAS Fellow, 2015, Chinese | B.S. in Speech Language |
| Samuel Real | Undergraduate and Summer FLAS Fellow, 2015 and 2013-14, Chinese | B.S. in Business Accounting |
| Zach Adamz | Graduate FLAS Fellow, 2014-15, Korean | M.A. in Geography |
| Sam Buchanan | Undergraduate FLAS Fellow, 2014-15, Korean | B.S. in Electrical Engineering |
| Dannah Campbell | Undergraduate FLAS Fellow, 2014-15, Japanese | B.A. in East Asian Languages & Cultures |
| Kasey Considine | Graduate and Summer FLAS Fellow, 2014-15, Chinese | J.D. in Law |
| Rosalyn Lucas | Undergraduate FLAS Fellow, 2014-15, Japanese | B.A. in East Asian Languages & Cultures |
| Miles Simpson | Undergraduate FLAS Fellow, 2014-15, Chinese | B.S. in Economics |
| Patrick Walter | Undergraduate and Summer FLAS Fellow, 2014-15, Chinese | B.S in Computer Engineering |
| William Ashley | Summer FLAS Fellow, 2014, Chinese | B.A. in East Asian Languages & Cultures |
| Anna Hu | Summer FLAS Fellow, 2014, Chinese | B.A. in East Asian Languages & Cultures |
| Kodi Low | Summer FLAS Fellow, 2014, Chinese | B.A. in Political Science and B.A. in East Asian Languages & Cultures |
| Alina Zheng | Summer FLAS Fellow, 2014, Chinese | B.A. in Political Science |
| Chelsea Ziu | Summer FLAS Fellow, 2014, Japanese | B.F.A. in Illustration and B.A. in East Asian Languages & Cultures |
| Sara Henry | Undergraduate FLAS Fellow, 2013-14, Japanese | B.A. East Asian Languages & Cultures and B.A. in English |
| Erik Homberger | Graduate FLAS Fellow, 2013-14, Japanese | M.S. in Electrical Engineering |
| Annette Jardon | Undergraduate FLAS Fellow, 2012-14, Japanese | B.A. in East Asian Languages & Cultures |
| Justin Kohlbeck | Graduate FLAS Fellow, 2012-14, Korean | J.D. in Law |
| Susan McClannahan | Undergraduate FLAS Fellow, 2012-14, Korean | B.A. in East Asian Languages & Cultures |
| Leslie Montes | Undergraduate FLAS Fellow, 2013-14, Japanese | B.F.A in Industrial Design |
| Robert Morrissey | Graduate FLAS Fellow, 2013-14, Japanese | M.A. in Art History |
| Patrick Terry | Graduate and Summer FLAS Fellow, 2013-14, Chinese | Ph.D. in Film & Media Studies |
| Emily Bowden | Summer FLAS Fellow, 2013, Chinese | M.A. in East Asian Languages & Cultures |
| Stephanie Metzger | Summer FLAS Fellow, 2013, Japanese | M.A. in Women, Gender, & Sexuality Studies |
| William Putzier | Summer FLAS Fellow, 2013, Chinese | B.S. in Business Finance |
| Brittany Varnado | Summer FLAS Fellow, 2013, Japanese | B.S. in Microbiology |
| Sarah Bregman | Undergraduate FLAS Fellow, 2012-13, Korean | B.A. in East Asian Languages & Cultures |
| Janet Chen | Graduate and Summer FLAS Fellow, 2012-13 and 2009, Japanese | Ph.D. in Art History |
| Emerson James | Undergraduate and Summer FLAS Fellow, 2012-13, Korean | B.S. in Business Finance and B.A. in East Asian Languages & Cultures |
| Adrienne Johnson | Graduate and Summer FLAS Fellow, 2011-13, Korean | Ph.D. in Linguistics |
| Melanie Leng | Undergraduate and Summer FLAS Fellow, 2012-13, Chinese | B.A. in Linguistics and B.A. in East Asian Languages & Cultures |
| Jacob Rhodes | Undergraduate FLAS Fellow, 2012-13, Chinese | B.S. in Business Finance |
| Amanda Snider | Graduate FLAS Fellow, 2012-13, Uyghur | M.A. in Anthropology |
| Evan Kolke | Summer FLAS Fellow, 2012, Japanese | M.A. in Anthropology |
| Sabrina Owens | Summer FLAS Fellow, 2012, Korean | M.A. in Museum Studies |
| Ethan Skinner | Summer FLAS Fellow, 2012, Chinese | M.A. in Linguistics |
| Evan McCormick | Graduate and Summer FLAS Fellow, 2011-12, Korean | M.A. in East Asian Languages & Cultures and M.S. in Language Pedagogy |
| Rachel Brackett | Undergraduate FLAS Fellow, 2011-12, Korean | B.A. in Art History |
| Jordi Cheritz | Undergraduate and Summer FLAS Fellow, 2011-12, Chinese | B.A. in History |
| Henry Ehly | Undergraduate FLAS Fellow, 2011-12, Japanese | B.A. in Linguistics |
| Bonnie Ewart-Fisher | Undergraduate FLAS Fellow, 2011-12, Japanese | B.A. in East Asian Languages & Cultures |
| Daniel Shoemaker | Undergraduate FLAS Fellow, 2011-12, Japanese | B.A. in East Asian Languages & Cultures and B.S. in Business Administration |
| Ashley Thompson | Graduate and Summer FLAS Fellow, 2011-12 and 2010, Uyghur; Summer FLAS Fellow, 2011, Chinese | M.A. in Anthropology |
| Rachel Voorhies | Graduate and Summer FLAS Fellow, 2011-12 and 2008-09, Japanese; Summer FLAS Fellow, 2007, Chinese | Ph.D. in Art History |
| Aun-Drey Brown | Summer FLAS Fellow, 2011, Japanese | M.A. in East Asian Languages and Cultures |
| Dusty Clark | Summer FLAS Fellow, 2011, Chinese; Graduate and Summer FLAS Fellow, 2007-08, Japanese | M.A. in History |
| Christian Dye | Summer FLAS Fellow, 2011, Chinese | B.A. in East Asian Languages & Cultures and B.S. in Economics |
| Diane Hughes | Undergraduate and Summer FLAS Fellow, 2010-11, Chinese | B.A. in Linguistics |
| Krista Irick | Summer FLAS Fellow, 2011, Chinese | M.A. in East Asian Languages & Cultures |
| Eric Paden | Summer FLAS Fellow, 2011, Chinese | M.A. in East Asian Languages & Cultures |
| Steve Davies | Graduate FLAS Fellow, 2009-11, Japanese; Graduate FLAS Fellow, 2007-08, Chinese | Ph.D in Ecology & Evolutionary Biology |
| Danny Hudson | Undergraduate FLAS Fellow, 2010-11, Chinese | B.A. in East Asian Languages & Cultures and B.S. in Business Finance |
| Andrew Kauffman | Graduate FLAS Fellow, 2010-11, Chinese | M.A. in East Asian Languages & Cultures |
| David Kauffman | Graduate FLAS Fellow, 2010-11, Uyghur | Ph.D. in Anthropology |
| Melinda Landeck | Graduate FLAS Fellow, 2010-11, Chinese; Graduate FLAS Fellow 2009-10, Japanese | Ph.D in History |
| Margaret Neff | Undergraduate FLAS Fellow, 2010-11, Chinese | B.S. in Civil Engineering |
| Casey Robinson | Undergraduate FLAS Fellow, 2010-11, Japanese | B.A. in East Asian Languages & Cultures |
| Brian Hogarth | Summer FLAS Fellow, 2010, Chinese | M.A. in Art History |
| James D. Parker | Summer FLAS Fellow, 2010, Korean; Graduate FLAS Fellow, 2008-09, Japanese | M.A. in History |
| Breanna Krueger | Summer FLAS Fellow, 2010, Korean | M.A. in Linguistics |
| Ashley Thompson | Summer FLAS Fellow, 2010, Uyghur | M.A. in Anthropology |
| Abigail West | Summer FLAS Fellow, 2010, Chinese | B.A. in East Asian Languages & Cultures |
| Amanda Falk | Graduate FLAS Fellow, 2009-10, Chinese | Ph.D. in Ichnology |
| Stephen Politzer-Ahles | Undergraduate and Summer FLAS Fellow, 2009-10, Uyghur | B.A. in Linguistics |
| Halle O'Neal | Graduate and Summer FLAS Fellow, 2009, 2006-07, and 2003-04, Japanese | Ph.D. in Art History |
| Teresa Mathew | Graduate FLAS Fellow and Summer FLAS Fellow, 2009 and 2006-07, Japanese | M.A. in Religious Studies |
| Karin Warch | Graduate FLAS Fellow, 2007-09, Korean | M.A. in Art History |
| Robert J. Del Greco | Summer FLAS Fellow, 2008, Chinese | M.A. in East Asian Languages & Cultures |
| Michelle Overholt | Summer FLAS Fellow, 2007, Uyghur | M.A. in Linguistics |
| Joshua Shireman | Summer FLAS Fellow, 2007, Uyghur | M.S. in Education Curriculum and Teaching |
| Michael Doveton | Summer FLAS Fellow, 2007, Korean | M.A. in Anthropology |
| Geoffrey Cook | Graduate and Summer FLAS Fellow, 2006-07, Chinese | M.B.A |
| John Schneiderwind | Graduate FLAS Fellow, 2006-07 and 2003-04, Japanese | Ph.D. in History |
| Michelle Bridges | Summer FLAS Fellow, 2006, Uyghur; M.A. in Linguistics |   |
| KuoRay Mao | Graduate and Summer FLAS Fellow, 2005-06, Uyghur | M.A. in Sociology |
| Alison Miller | Summer FLAS Fellow, 2006, Japanese | M.A. in Art History |
| Christopher Mayo | Summer FLAS Fellow, 2006 and 2005, Japanese | M.A. in East Asian Languages & Cultures |
| Peter Tosco | Summer FLAS Fellow, 2006, Japanese | M.A. in East Asian Languages & Cultures |
| Thomas W. Barker | Graduate FLAS Fellow, 2005-06, Japanese | M.A. in History |
| Carrie Janiga | Graduate and Summer FLAS Fellow, 2005-06, Chinese | M.A. in Art History |
| Hillary Pedersen | Graduate and Summer FLAS Fellow, 2005-06 and 2003, Chinese | Ph.D in Art History |
| Eric Elchhorst | Summer FLAS Fellow, 2005, Japanese | M.A. in East Asian Languages & Cultures |
| Julia C. Hopkins | Summer FLAS Fellow, 2005, Chinese | M.A. in International Studies |
| Michael Ward | Summer FLAS Fellow, 2005, Japanese | M.A. in East Asian Languages & Cultures |
| Demetra Salisbury | Graduate and Summer FLAS Fellow, 2004-05, Chinese | J.D. in Law |
| Brenton Sullivan | Graduate and Summer FLAS Fellow, 2004-05, Chinese | M.A. in East Asian Languages and Cultures |
| Kirstin Tysver | Graduate FLAS Fellow, 2004-05, Japanese | M.A. in History |
| Amanda Wright | Graduate FLAS Fellow, 2004-05, Chinese; Summer FLAS Fellow, 2003, Japanese | Ph.D. in Art History |
| Perry Ernest Caldwell | Graduate and Summer FLAS Fellow, 2003-04, Chinese | M.A. in East Asian Languages & Cultures |
| Owen Grieb | Summer FLAS Fellow, 2004, Japanese | J.D. in Law |
| Sheri Martin | Summer FLAS Fellow, 2004 & 2003, Chinese | Ph.D. in Political Science |
| Lakisha Mitchell | Summer FLAS Fellow, 2004, Japanese | M.A. in International Studies |
| Cody Szuwalski | Summer FLAS Fellow, 2004, Chinese | M.A. in Ecology & Evolutionary Biology |
| Brian Cleveland | Graduate and Summer FLAS Fellow, 2001 & 2002-03, Japanese; Summer FLAS Fellow, 2002, Chinese | M.A. in East Asian Languages & Cultures |
| Noelle Giuffrida | Graduate FLAS Fellow, 2002-03, Chinese; Graduate FLAS Fellow, 2000-01, Japanese | Ph.D. in Art History |
| Jesse Hodges | Graduate FLAS Fellow, 2002-03, Japanese | M.A. in History |
| Adam McIver | Summer FLAS Fellow, 2002 & 2001, Chinese | M.A. in East Asian Languages & Cultures |
| Mark Scoggins | Summer FLAS Fellow, 2002, Japanese | M.A. in English |
| Julia Yu | Summer FLAS Fellow, 2002, Korean | Pharm.D. in Pharmacy |
| Eric McNeal | Graduate and Summer FLAS Fellow, 2003-04, Chinese; Graduate FLAS Fellow, 2001-02, Japanese | M.A. in Art History |
| Lou Morrison | Graduate FLAS Fellow, 2001-02, Korean | Ph.D. in Art History |
| Jimmy Yu | Graduate FLAS Fellow, 2001-02, Japanese | M.A. in Religious Studies |
| John Josef Ertle | Graduate FLAS Fellow, 2000-01, Japanese | M.A. in Anthropology |
| Karen Mack | Graduate FLAS Fellow, 2000-01, Japanese | Ph.D. in Art History |