Pok Chi Lau
---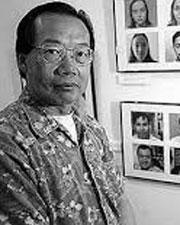 Professor Emeritus
ART AND DESIGN
Biography
—
Pok Chi Lau received a bachelor in fine arts degree from the Brooks Institute of Photography in 1975 and an MFA from the California Institute of Arts in 1977.
Pok taught a variety of subjects at KU, including content and design based on traditional and digital photography, video and mixed media and helped establish the BFA in Photo Media.
Pok Chi's research takes a social documentary photography to approach issues such as migration of Asians to the Americas; multiculturalism, diversity and ethnic identity. His work focuses on most Chinatowns in North America, the Imperial Valley of California and Tijuana, Mexico. The body of work has evolved into a project about mixed-race children, resulting in a trilingual photography book called "Dreams of the Golden Mountain."
His photo-documentary work includes "The New Economic Zone of Southern China" and "The Handover of Hong Kong, 1997 — from a British Crown Colony to Communist China." He has also made two videos, "Nepal-Below the Himalayas" and "Tell Grandma about Langston Hughes."
Pok Chi has received a Hall Center for Creative Work Fellowship to make a body of conclusive photographs on contemporary China in 2003. He has been nominated for the 2008 U.S. Artist Award. His work is exhibited at the George Eastman House, the Smithsonian Institution, the High Museum of Art in Atlanta, the Museum of Modern Art and the Museum of Tolerance.
In 2013, Pok Chi Lau retired from The University of Kansas, Department of Design and was awarded Emeritus status for his 35 years of commitment to teaching, research and service.
Research
—
Research interests:
Traditional and digital photography
Video and mixed media
Social documentary photography on Asian migration to America, and diversity and ethnic identity