Akiko Takeyama
---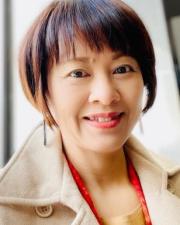 Director
CENTER FOR EAST ASIAN STUDIES
Professor
WOMEN, GENDER, & SEXUALITY STUDIES
Contact Info
Blake Hall, room #306-A

Bailey Hall, room #210

---
Biography
—
Akiko Takeyama is a professor of Anthropology and Women, Gender, and Sexuality Studies at the University of Kansas. Her research and teaching interests lie in changing gender, sexuality, and class dynamics in the context of neoliberal globalization. Her first book, Staged Seduction: Selling Dreams in a Tokyo Host Club (2016 Stanford University Press), theorizes the commercialization of feelings, emotions, and intimate relationships among socially marginalized population —the youth and the female— in contemporary Japan's service-centered economy. Her book was shortlisted for 2017 Michelle Rosaldo Book Prize, Association of Feminist Anthropology in American Anthropological Association. Her second book project, entitled "Japan's Adult Video Industry: Gender, Technology, and Labor in the Age of Internet and the Content Business," explores the interrelation among politico-legal systems, information technology, and the global economy. Specifically, she intends to bring human affect —hope, fear, and a sense of vulnerability— to the center of an analysis of 21st century capitalism, complicating such legal categories as human rights and individual consent especially when sexual and economic exploitation are carried out in the name of individual freedom of choice. Her research will shed light on the complex set of social, economic, and legal contexts wherein consent and coercion, pleasure and danger, and hopes and disparity coexist intimately.
Research
—
Her research interests, as well as teaching interests, lie in changing gender, sexuality, and class dynamics in the context of neoliberal globalization. She employs interdisciplinary informed theories and methods in her research.
Research interests:
Gender, sexuality and subjectivity
Capitalism, class, and labor
Cultural anthropology
Feminist history
Japan
Teaching
—
Her teaching explores human experience through which cultural meanings are created and negotiated in everyday lives. She also often uses gender, among other factors, as an analytical lens to critically analyze social structure and lived experiences in various socio-historical contexts, (post)colonial geopolitics, and global capitalism.