Jieun Lee
---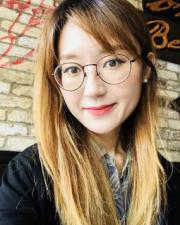 Visiting Assistant Professor
Education
—
Ph.D., 2022, Milwaukee, Wisconsin
B.E., English Language and Literature, Kangwon National University, 2015, Chuncheon-si, Korea
Research
—
Research interests:
Second language acquisition of Korean language
Psycholinguistics
Speech Perception and Production
Selected Publications
—
Conference Proceedings:
Lee, J. and Park, H. (2021). Individual differences in non-native phonological contrast learning: the role of within-category cue sensitivity in native language perception. Online Proceedings of 2021 the Phonology-Morphology Circle of Korea Summer Conference.
Lee, J., Kim, D. J., and Park, H. (2019). Native listener's evaluations of pleasantness, foreign accent, comprehensibility, and fluency in the speech of accented talkers. In J. Levis, C. Nagle, & E. Todey (Eds.), Proceedings of the 10th Pronunciation in Second Language Learning and Teaching Conference, ISSN 2380- 9566, Ames, IA, September 2018 (pp. 168-178). Ames, IA: Iowa State University.