John W. Dardess
---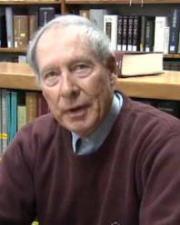 Professor Emeritus
HISTORY
Biography
—
John Wolfe Dardess (January 17, 1937–March 31, 2020), in the founding generation of American Ming historians, was born in Chatham, New York to Edna Wolfe Dardess and a doctor, John Dardess, who gave him his love of independence, history, language, gardening, and physicality, according to his brother. At the local high school, the coach/history teacher taught him by example that one could pursue history while still being physically active. Dardess biked past undergraduates on the hill up to his office and rode 20 or more miles in a day, even after retirement. He was also an avid baseball fan, and played a digitalized game in a local club. . . .
He graduated from Georgetown University in 1958, served in the US Army in the 1960s, joined the Association for Asian Studies in 1962, and earned his PhD from Columbia University in 1968. He taught Chinese and Inner Asian history at the University of Kansas from 1966 until 2002, and continued to live in Lawrence. He worked up until the last possible moment, leaving a manuscript he told his son was "90% finished," written out in his tiny, precise handwriting. . . .
He died Tuesday, March 31, 2020 at St. Luke's Hospice House in Kansas City, Missouri. In honor of his 54 years at the University of Kansas, Professor Eric Rath and librarian Vickie Fu Doll have named the annual East Asia research symposium after him. 
For more information on the many contributions of John Dardess, please continue reading Sarah Scheewind's obituary of John Dardess.