Thomas Huang
---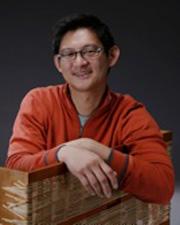 Associate Professor
SCHOOL OF ARCHITECTURE & DESIGN
Biography
—
Tom Huang holds an MFA in Furniture Design from the Rhode Island School of Design. He has exhibited nationally and is represented by Wexler Gallery. In 2007, he was named a "searchlight artist," an emerging artist to watch by the American Craft Council. A Fellow of the Center for Furniture Craftsmanship, he has held exhibitions at the Delaware Center for Contemporary Art, and other nationally acclaimed Art Centers. He has been published in American Craft Magazine, and is an Associate Professor of Design at The University of Kansas. Huang's work originates in the realm of Studio Furniture. He has employed weaving and binding in his work as a metaphor for cultural reconciliation in his exploration into his Asian American heritage. His love for teaching and making has led him to observations and questions about Craft (exercises that stimulate both brain and hand simultaneously) and the liminal or trance-like state of mind that sometimes occurs when the hands are engaged in repetitive motion. His course Kaw River Canoe Workshop (Lawrence Art Center), engages our community with some of these techniques. Huang's bamboo furniture work has been published in E. Ashley Rooney's, Bespoke: Furniture from 101 International Artists and in Eduard Broto's book Bamboo Design Guide & 59 Case Study, published by Links books. Huang continues to build canoes and furniture locally. For more information – TomHuangStudio.com
Research
—
Human relationships are shadowed by close interaction with furniture. These dimensional, cultural artifacts influence intimacy and behavior. In today's world, global 'cross-culturalization' places us all in a situation of negotiation and resolution. This condition is reflected in my work as the reconciliation of dissimilar materials within the language of furniture – a language that celebrates physical sensuality, emotional sentiment, and visual harmony. My work enables intimacy and is implicitly global through its nature as human artifact and through the poetic use of various materials. As contemporary Studio Furniture maker Tom Loeser describes in the exhibit catalogue Contemporary Studio Case Furniture: The Inside Story (Elvehjem Museum of Art, Madison, WI 2002), the evolution of furniture from purely functional everyday objects to Studio Furniture or Art objects occurs because, like contemporary sculpture, Studio Furniture is conceptual. Studio Furniture intellectually engages the viewer, while reinforcing this content through physical engagement. It makes the traditionally passive observer, an active participant. In considering the content of my work, it is important to recognize that as a first generation Asian American, my identity has been shaped by the resolution of Eastern and Western cultural practices. My work focuses on the expression of this resolution through the metaphor of the woven structure. Using this metaphor, I look to strengthen our understanding of "furniture" as objects that enable intimacy. A woven structure is a combination of two parts, a warp and a weft. Through a process of sampling or "weaving" together dissimilar materials, I explore the different potentials and qualities of the materials. I extol their independent virtues while treating them as an aggregate whole. Their resolution as a new fabric, an interconnection of two parts, parallels what occurs in the process of developing intimacy. Time, repetition and openness are vital to the formation of intimate relationships. The techniques of binding and weaving capture these ideas, and give them form. With a clear understanding of this metaphor, I am now looking to begin collecting an international vocabulary of weaving techniques in hope of celebrating the diverse cultural heritages that make up our global community. Indigenous peoples around the world have developed woven structure, unique in function and materials. These objects, represent a material culture and are potent in their meaning as anthropological and cultural symbols. As I derive my work from these inspirations, my hope is to "weave" their unique characteristics and thereby values into a new fabric and context. At an academic level, my work interlaces the disciplines of art, design, and anthropology.
Research interests:
Asian materials
Furniture-based sculpture
Teaching
—
TEACHING INTERESTS Ultimately, designed objects are part of our material culture. Within our material culture lies a physical representation of our societal values. Because of this, the industrial designer is both cultivator and keeper of this evolving value system. As designers, we envision and create the objects that raise and record the human condition. At a primary level we address the issues of comfort, ease, and efficiency. At the highly evolved level, the objects we conceive address the complex philosophical issues of aesthetics, and ethics. My primary teaching interest is in emphasizing this responsibility, while teaching the skills that enable the student to successfully fulfill the role of the designer in their future professional lives. TEACHING PHILOSOPHY Teaching is positive. Teaching is communicating clearly and concisely. Teaching is warm and personal. Teaching requires consciousness. Teaching is about recognizing potential. Teaching is about knowing the difference between insight and criticism. Teaching is a responsibility. Teaching is listening before speaking. Teaching requires patience. Teaching challenges. Teaching is being open. Teaching is sharing. Teaching liberates. Teaching requires an understanding that people learn differently. Teaching is being encouraging. Imagine a child learning to ride a bicycle, the parents first give some rudimentary instruction on the mechanics of pedaling and steering, then they place the child on the bicycle and point it in the correct direction. The parents proceed to run along side the child on the moving bicycle. Their role from this point on is to keep the child from falling and hurting themselves. Only when the child swerves from his path or begins to fall, does the parent intervene. In their intervention they merely use their shoulders to nudge the child back on course. At a fundamental level, my approach to teaching is best illustrated by this analogy. It illustrates my belief that the activity of design is experiential. The learning process is kinesthetic. My role is to support, guide and keep the students from falling. I do not believe that I can steer or pedal for them. Their creative direction is their responsibility. Their drive and motivation toward the discipline must come from within. I do believe that it is my responsibility to inspire and illustrate the joy of this creative activity. I believe that the best designers are part artist, part technician, part poet and philosopher. My goal is to help students recognize their creative potential. I help them understand that their concepts can be communicated through a set of skills, which can be acquired and refined. APPROACH TO TEACHING My approach follows a traditional design studio model. The students are given a design problem in the form of a design brief. They are engaged during their design process through one-on-one and peer feedback, and are then critiqued on their final solution. The design problems are selected to address proficiency in specific technical skills. The process of design is defined as a problem-solving activity with an emphasis on critical thinking. This decision-making process is founded upon the critical analysis of the problem and creative application of a specific skill set. In-class final critiques address the student's proficiency in the technical skills, but stress the conceptual basis of the work and of the design decisions made. I guide discussions toward the analysis of the problem, the student's articulation of their intended solution, and the efficacy of their solution. Because of the highly hands-on and kinesthetic nature of learning design skills, individual instruction is of vital importance. This is reflected in my overall course grading criteria, where I emphasize the importance of attendance. To further diversify the learning experience, I occasionally invite fellow design faculty and design professionals as guest critics to share their insights at mid and final critiques.