Yoonmi Nam
---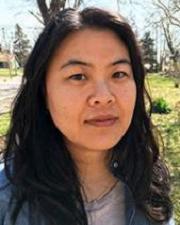 Contact Info
Chalmers Hall, room #212A

---
Biography
—
Yoonmi Nam's work considers cross-cultural experiences and a sense of transience through observations of everyday objects and occurrences. In her prints, drawings, sculptural works, and installations, she uses familiar disposable objects and cut flower arrangements as subject matter and explores their materiality, ephemerality, persistence, and the common and extraordinary way we structure our surroundings. Born and raised in Seoul, South Korea, Yoonmi received a B.F.A. degree in Printmaking from Hong-Ik University in Seoul, Korea. She moved to the U.S. to study at the Rhode Island School of Design, where she received an M.F.A. degree in Painting/Printmaking in 2000. Yoonmi has received numerous grants and awards to support her studio practice and travel. Some notable achievements include a Solo Exhibition Award from The Print Center in Philadelphia, MI-LAB Artist Residency Award in Japan, The Hall Center Creative Work Fellowship at The University of Kansas, and the Ngawang Choephel Fellowship from the U.S. State Department. Her work is in the collections of the RISD Museum, RI; Spencer Museum of Art, KS; and the Beach Museum of Art, KS; among others, and has been shown both nationally and internationally including countries such as Japan, New Zealand, Scotland, Korea, Germany, Poland, Mexico, Bulgaria, Italy, Sweden, and Paraguay. Yoonmi Nam teaches printmaking and professional activities seminar at the University of Kansas, where she has been a faculty member since 2001. She teaches both undergraduate and graduate students, and has taught Lithography, Intaglio, Serigraphy, Japanese Woodblock Printmaking, Foundations Drawing, and Graduate Seminar.
Education
—
Printmaking, Hong Ik University, 1997, Seoul, Korea
Painting/Printmaking, Rhode Island School of Design (Honors), 2000, Providence, RI
, Sheridan Center for Teaching and Learning at Brown University, 2000, Providence, RI
Research
—
There is an ever-present, yet always changing still life of a sort that occurs on my kitchen table. The set-ups are brief and temporary – the top of the table becomes a site for staging a take-out dinner, grocery bags, and the daily mail. Quickly, these objects exit the stage and are discarded. However, these disposable objects can also suggest a different sense of time. Immediately after their intended use, they become useless and disposable. But, as materials, they often last longer than their intended lifespans. In my sculptural works, I use these familiar disposable objects as subject matter and explore their materiality, ephemerality, and their persistence. I am drawn to man-made spaces and objects that we surround ourselves with, especially when they subtly suggest a contradicting sense of time that seems both temporary and lasting. In the arranged flower imagery, the flowers, once cut from their roots, have only a short remaining time to live. They will quickly wither and die, but before they do, they are elegantly and elaborately arranged, as if time will stand still for them. The containers that hold them are disposable objects, such as a yogurt cup, a Styrofoam take out box, and an instant noodle bowl. These objects, although meant to be discarded immediately after use, often last longer than their intended lifespans. The images of the structures in my drawings are inspired from my everyday environment. They are either in the process of being torn down, built up, or simply in some kind of a state of change. It may be due to time, neglect, development, or forces of nature. I am interested in beauty, irony, impermanence, and the common and extraordinary way we structure our surroundings.
Research interests:
Visual and contemporary art
Printmaking
Japanese woodblock printing
Lithography